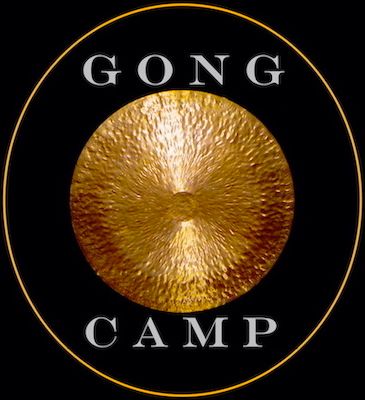 2024 Gong Camp
September 29, 2024 - October 8, 2024
RESERVE YOUR PLACE ON THE 2024 GONG CAMP Wait List - CLICK HERE
The 'lineup' will be announced soon - but expect the Usual Suspects
The 9ways Gong Camp has become the 'gold standard' in teaching 'everything Gong' in the world today. Our approach is quite different to most Gong trainings because we are focused on teaching 'musicianship' focused on practice time and drills to increase the students skill set in playing the Gong. This is a deep dive into Gong Culture and Gong Craft featuring all the Gongs throughout the world's Gong Cultures.
We are not focused on one type of Gong, but all Gongs including 'artisan' Gongs from independent Gong Makers. Our "Gong Lab" features Bronze Gongs, Nickel Silver Gongs, Stainless Gongs, Iron Gongs, Glass Gongs, Titanium Gongs, Wind Gongs, Chao Gongs, Nipple Gongs, Heng Gongs, Burma Gongs, Turkish Gongs, Italian Gongs, Indonesian Gongs, Tea Ceremony Gongs, Bertoia Studio Gongs and Sonambient pieces, Thai Gongs, Chinese Gongs, Floor Gongs, Whirling Gongs, Cloud Plate Gongs, Sun Gongs, Bao Gongs, Xiang Jia Gongs, including Gongs from many of the independent makers like Matt Nolan, Ryan Shelledy, Jim Doble, Grotta Sonora, Shawn Aceto, etc.
We explore Gong Mallets, Gong Stands, Gong accessories, which is why we say 'everything Gong'. No dogma that one Gong is better, that one style of play is the rule of thumb; we put the student into a Gong environment where they make the choices on what sounds good to them or not. All the Gongs are side by side where it's easy to compare and evaluate.
Days are spent in practice drills and skill set techniques with teachers who are shaping modern Gong Culture today. Led by Ethnomusicologist Mitch Nur, PhD who has been playing Gongs for over 5 decades and Maestro Mike Tamburo who is the worlds busiest Gong touring artist; they are joined by Physicists, Authors, Gong makers, and other Gong performers to give you a high degree of mentoring and insights to becoming a skilled Gong musician. What do others say? Philip McNamara author of 'Gongs and Tam-Tams' writes "Just got back from this Years Gong Camp USA. Last visit was in 2019 but pandemic restrictions have kept me away since. Met up with old friends and made new ones and met people I've only seen on Facebook. Great teachers ( Mitch Nur, Mike Tamburo, Michael Bettine, Thomas Orr Anderson to name a few) and great students on what surely must be the best gong training out there. So blessed that my presentation on the Use of Gongs and Tamtams in Classical music was so well received and being allowed to help train students with some insights and playing techniques."
Evenings feature powerpoints covering an accurate timeline of Gong history and culture from a global view. Western Gong culture began in the 20th century which makes it relatively young compared to Gong Cultures in the East. Evenings also feature visiting Gong artists in 'live' performance so you can observe others performing on their Gongs providing additional insights into Gong play. This is the total package into making Gong Camp - everything Gong. Time is not wasted on discussing instruments that you can play with the Gong, taking valuable time away from the Gong and it's far reaching frequency domains. We want you to leave Camp more knowledgable about the Gong, and how to play it at a higher level with confidence. And the knowledge provided is not riddled with 'schemes' or 'magical formulas' taking the place of musicianship and academic knowledge about the Gong. This training is complete from friction mallets to stand selection, including new Gong products.
This program has very limited enrollment of just 18 students at a time - quality over quantity. Small class size is intimate and conducive to learning this craft in a way that most trainings fail to accomplish. Multiple teachers, long hours of practice time with Gongs from all over the world, make this the 'Gold Standard' in teaching the Gong - period.
The 2023 Gong Camp attracted over 170 students trying to get in. It featured alongside Mitch and Mike - Thomas Orr Anderson, Michael Bettine, Karen Stackpole, Philip McNamara, Janet Young, Lois Harrison, and Nancy Aleo; who were joined by John Minks who gave a talk on making friction and Gong mallets.
To top everything off, we take a field trip to the Bertoia Sonambient Sound Barn and explore all the possibilities from America's first Gong making Family; and the location of the largest Gong in North America, Harry Bertoia's 1 Ton Bronze masterpiece. When we say 'complete' we mean it.
Join us in 2024 as we continue to push the boundaries on Gong Culture and Craft in a way few imagined. No one ever wants Gong Camp to end - just ask our students!
* GONG CAMP is a small intimate gathering limited to just 18 students - QUALITY in place of QUANITY. This is the only training which features Ethnomusicologists, Physicists, and touring Gong musicians.
Join our Wait List for 2024 now - the list gets longer each and every day, so don't delay.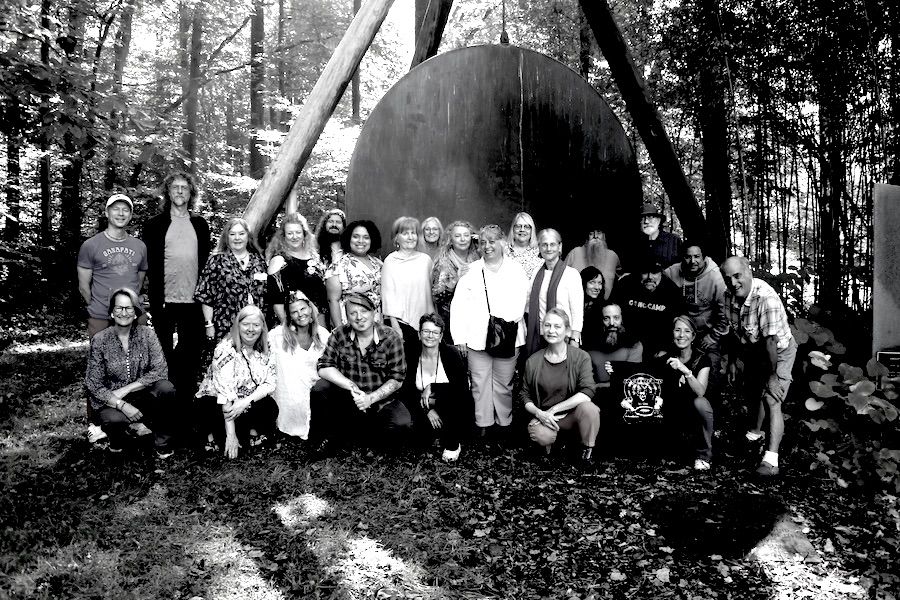 2023 Gong Camp in front of Harry Bertoia's 1 ton Bronze Gong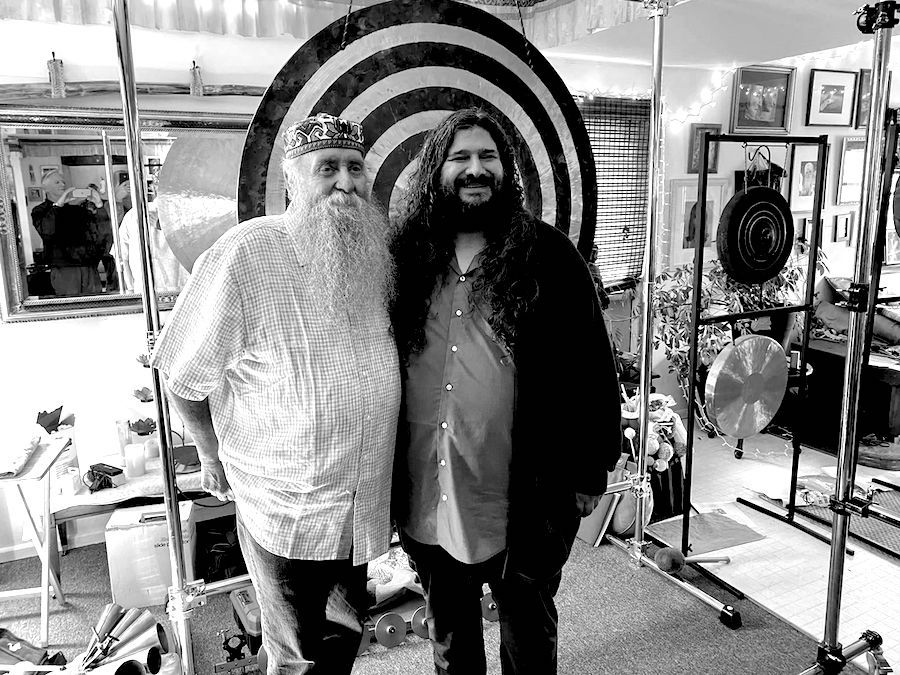 Mitch Nur PhD and Mike Tamburo